Darius Townsend
Biographical information
Aliases

Dee

Nationality

American

Born

March 27th, 1994 (Age: 20)


Physical description
Ethnicity

Afro-American

Height

6 ft

Hair color

Black

Eye color

Dark brown

Familial and political information
Known family

Unknown Mother
Unknown Father

Affiliations
Miscellaneous information
Occupation(s)

Drug Dealer

Owned vehicles

1998 BMW E36 M3 Convertible
1996 Chevrolet Impala SS
Darius Townsend (born March 27th, 1994) is one of the Williamson Crew's drug dealers operating in various areas, predominantly in Idlewood neighborhood. He is a mix of Haitian and Jamaican descent. Dubious information circulates around Townsend's friends and foes that he had a minor affiliation to one of the Miami's most notorious street gangs called Zoe Pound.
Biography
Edit
Townsend grew up in the urban decayed neighborhood of Miami, Florida and thus he was involved with small time criminal activities such as burglary, robbery and auto theft. At age of 16 Townsend was forced by his parents to move to Los Santos, San Andreas where he currently continues his mischievous activities.
Townsend attended Ethel Koger Beckham Elementary School in Miami.
Legal issues
Edit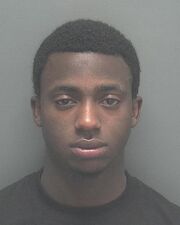 In January 2015, Townsend was arrested for home invasion and physically attacking an officer of the law. Townsend plead guilty and was charged with 2 months in San Andreas Detention Center.
In March 2015, Townsend was once again arrested for allegedly doing a home invasion, evasion on foot and carrying illegal weaponry, though due to lack of actual evidence he was only sentenced for evasion, to which he plead guilty, to one day in San Andreas Detention Center.